Since 2005 Avansa have been representing brands within the Wholesale and Convenience market, helping them to grow and succeed in this complex and ever changing market. Our range of services has changed over these years but one thing hasn't – our commitment to always go the extra mile for every brand we work for no matter how big or small they are.
After many years working in the Wholesale market we recognised the dominance big brands can have in a depot, from the orders being placed to the fixture space given, smaller brands just weren't getting a look in. The route to market in the Wholesale and Convenience market is not straightforward and getting your product into your end consumer's hands is a challenge. With the knowledge, relationships and feet on the street we felt passionately about waving the flag for these brands and helping them get a foot in the door and stand out in depots – and Avansa was born.
Fast forward to the present day and not much has changed, we're still out there day in day out waving the flag for our clients, creating stand out and cut through in this ever changing market. Our client base has grown and we now represent some of the biggest food and drink brands in the UK, whilst still championing the smaller brands which continue to grow from strength to strength. We've expanded the range of services on offer with our retail calls, and tactical sales demonstrations and are proud of the long standing relationships with many of our clients, who undoubtedly recognise the value of the work we do on their behalf.
Driving sales
We'll ensure you achieve visibility in the Wholesale market, whether that's helping to gain a listing, increasing your prominence on fixture, engaging with an independent retailer on your behalf or getting your product directly into customers hands with our tactical sales demonstrations.
Delivering results
Our team are the experts and know what it takes to succeed in this market. We're proud of the fact that we have long standing relationships with many of our clients because they value the work we do, our can do attitude and ultimately the sales results that we deliver.
Cost effective and flexible
The service we offer is different for every client, so no matter what your requirement we're bound to be able to help at a price you can afford. We deliver exceptional results and are well known and valued within the trade helping your brand to grow and succeed.
What makes the Avansa team special
Employee of the year
Quite simply Avansa wouldn't be Avansa without the fantastic team we have, and every year we like to recognise the hard work they all put in to delivering an outstanding service to our clients. As a business we're highly regarded within the industry and our clients appreciate our can-do attitude to helping them succeed. At our annual Christmas party, as well as the very serious business of secret Santa, we announce the winner of The Avansa Employee of the Year – a hotly contested title where an individual's contribution to the business is recognised through nominations by their colleagues. The perfect end to the year and a time to celebrate our success as one team.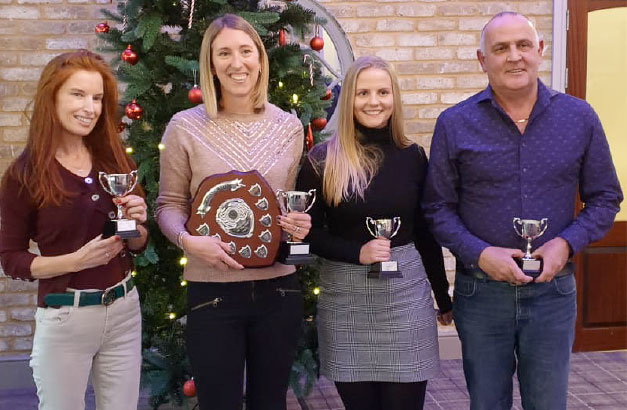 Regular sales meetings
We see ourselves as an extension of the workforce of the brands that we work for which is why we strongly believe in coming together as a team throughout the year. Our regular off-site sales meetings are a great chance to meet up and update each other on our areas of the business, as well as take part in a famous Avansa quiz! We also invite all our clients to attend, giving them the opportunity to brief the team face to face on any upcoming activity, as well as having the chance to gain vital feedback from the team.
Head Office Support
Our head office, based in Witley, Surrey, is the heart of the business looking after all employee and company administration as well as providing a central contact point for our clients. Responsible for producing our excellent monthly client reports the team make use of the daily qualitative feedback as well as using our unique Vantage database to ensure the feedback clients receive is both insightful and timely.